* Muckaty Traditional Owners defeat the nuclear dump plan!*
19 June 2014, Alice Springs.
Thanks for being part of history! As most people would have seen, on Thursday 19th June 2014, the good folks of Muckaty and the Beyond Nuclear Initiative

have had an extraordinary, and hard fought victory. After seven long

years of campaigning, the Northern Land Council finally capitulated and

agreed to not push ahead with the nomination for Muckaty. Check some

videos and news articles HERE and

HERE showing the joyful response of people on the ground when they got the news.
After speaking up for country and showing fierce community opposition, Muckaty Traditional Owners can finally celebrate the protection of their lands and their culture for future generations.
Please tell everyone that together we dumped the Muckaty nuclear dump plan!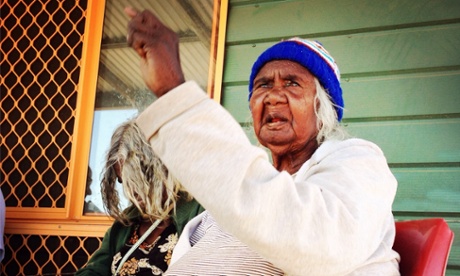 Milwayi elder and traditional owner Bunny Nabarula gives evidence at a special sitting of the federal court at Muckaty, June 2014. Photograph: Neda Vanovac/AAP