It is 10 years since the 'Shock and Awe' campaign was launched in 2003 by the US and UK and the invasion of Iraq began...


One question not being addressed anywhere in the present commentary and punditry surrounding this controversial anniversary is: how has the media performed in educating the public as to the true human cost of the war in Iraq in the decade since it began - especially
the impact on the population of Iraq?
The media played a huge role in the public-relations communication of the Iraq conflict from the military strategists and government planners to the electorate and general public. Embedding of reporters, 24 hour news, we all saw the Spectacle unfold...




10 years on... Do people generally have a realistic idea of the human toll of this conflict - from the perspective of its primary victims?




I am an ordinary citizen who would like to see this data and share it with other independent and citizen journalists and bloggers and activists. I believe that more voices than just those paid by corporate interests to achieve and support corporate goals are
a vital and increasingly absent part of a functioning and healthy democratic check on power.



It is not especially expensive to hire an independent recognised national polling agency to conduct this type of research. Between 80 interested parties a donation of £10 each would be plenty, using a popular particular polling model. If you can give even £1
it will all help towards reaching our goal. Please consider helping with whatever you can spare. There are a few simple acknowledgements in place for donations above $10 - its not much, but as a way of showing great appreciation toward any who feel strongly
enough about media performance on such critical issues I hope it helps to encourage donations >>>
The mainstream media has performed a great deal of self-reflection in the years since 2003, but as the 10 year anniversary for the invasion passes, the hand-wringing and contrition of those who previously felt 'duped' is far harder to come by, and once again
the noble cause of Just War is presented for our re-consideration.
http://en.wikipedia.org/wiki/Memory_hole
As the 'success' and 'value' of the conflict is assesed in retrospect, "Was it worth it?" is apparently the main question requiring an answer... A cost / benefit statement of account: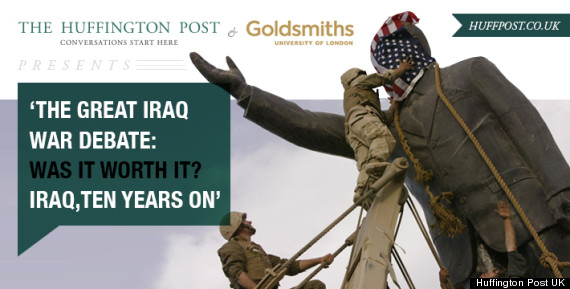 I would like to also and first ask "How many Iraqis have died? And are the UK public actually aware of how many?"



It seems like a reasonable question.
There are independent voices and alternative views aplenty now that the internet has facilitated self-publishing so democratically and broadly.
Independent journalists typically lack the funds and/or resources of corporate-backed or advertising-funded publishing, however.
Crowd-funding a project like this helps promote an entirely new model for public support of the alternative or contrary position so lacking from the delimited scope of the 'debate' according to corporate priorities. We who would seek less ideologically constrained
reporting can fund our own news and research. I believe it is ever more pressing and vital that we do so.
It promotes diversity in the press, support for independent and contrary opinion, transparency in public affairs and helps widen the debate and provoke conversation in terms other than those dictated by the 24 hour repetition of the wholly owned corporate
press.
In short, it is a systemic step in the right direction :)
Please give as much as you feel able to!



Many and sincere thanks for your support.
http://www.thebureauinvestigates.com/2011/07/03/in-video-iraqs-missing-2/